Module 7: Event-based Digital Archives
4 March 2021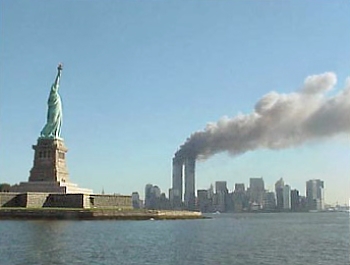 Content Warning: I am using the case studies of the September 11th, 2001 attacks this week. The articles contain straightforward descriptions of the attacks, but I do want to flag that the television archive can make for some harrowing viewing. Watch at your comfort level.
This week we do two things:
Explore the role that historians have played in responding to breaking events, using the case study of the September 11th, 2001 terrorist attacks; and
Put thought into practice to collaboratively develop plans to document contemporary events in Canada.
Readings for this Week
Stephen Brier and Joshua Brown, "The September 11 Digital Archive: Saving the Histories of September 11, 2001," Radical History Review, Issue 111 (Fall 2011).
James B. Gardner and Sarah M. Henry, "September 11 and the Mourning After: Reflections on Collecting and Interpreting the History of Tragedy," The Public Historian, Vol. 24, No. 3 (Summer 2002): 37-52.
Michelle Caswell, "Instant Documentation: Cell-Phone-Generated Records in the Archives," American Archivist, vol. 72, no. 1 (Spring-Summer 2009: 133-145).
I also want you to visit and explore these two websites at your comfort level:
Homework for the Week
Updated Thu Feb 25 by Ian: Let's not do this. I think you've got enough on your decks getting your project started, and I'd rather you spend time on discussion and beginning to chat with each other in synergy groups on Teams than this. Hope you didn't have your hopes up about this thing…
After the discussion, we will carry out a small group assignment – in groups of two or three students (we'll talk about why teams are important), you will pick an ongoing event in Canada and develop a rough two-page working document. It will cover:
Brief description of the event (half page)
Online collection strategy (one page)
Ethical considerations (half page)
This will be due before (i.e. up to and including the minute we connect to the seminar together!) the next week's class.
Our Discussion for the Week
In our discussion, we will cover the following topics:
September 11th, 2001. How did historians and museums respond in the weeks and months after the events to keep a record? Have they been successful? What strategies do you find most compelling? If the attacks are not in your own living memory, how do you understand them today?
Event collecting. How would we approach a topic like this today? We will discuss the ongoing COVID-19 pandemic as one avenue.
Want to Meet with Me?
As always, you can book a 30-minute meeting with me via Calendly. Use this link here. If there are no times that are available, just send me an email and we can work something out.
This will create a Microsoft Teams appointment. The URL for the Teams link will be in the calendar invitation e-mailed to you.
---